Is your hardwood floor in need of a facelift? In most scenarios, refinishing rather than replacing your hardwood floor is the ideal outcome. While refinishing hardwood can be a long and tedious process, it is much more cost-effective than a total replacement. 
During the refinishing process, all furniture will have to be removed from the room. Then comes the tedious part of sanding the wood bare. There will be dust everywhere, and the smell of this will be less than appealing. This refinishing process will be, at the very least, a week-long endeavor. 
The good news is that after this refinishing process, you will be left with beautifully restored hardwood flooring, giving the whole room a nice revamp. While not every hardwood floor can be refinished, most quality hardwood can be sanded down and restored at least six to ten times. In the same respect, most properly maintained hardwood floors can go anywhere from 20 to 30 years without needing any significant work done. Their longevity makes hardwood floors a great investment for any house.
However, there will come a time when every hardwood floor will need to either be refinished or replaced. If your hardwood floors are looking a little worse for the wear, it's best to contact the experts to decipher if your floors can simply be refinished or if your floors are more likely in need of a full replacement. 
Scenarios That Require Hardwood Replacement
While it is best to contact your local renovation experts before you begin the hardwood floor refinishing or replacement process, here are some telltale signs that your hardwood floors are most likely going to need a full replacement. 
Structural Damage
One of the top reasons that would lead to a full hardwood floor replacement is structural damage. A damaged subfloor can be caused by a variety of factors, from water leaks to termites to accumulated rot. While the subfloor often gets overlooked, it is actually the most important layer of the flooring system. As the foundation of your hardwood, a damaged subfloor usually calls for immediate attention and replacement. If you notice squeaking in certain areas of your floor, sagging spots, or a musty odor, it's time to call the experts today. 
Floor Movement 
Seasonal changes often cause some floor movement. During the summer months, hardwood floors often expand a little. Then when winter hits, the floor will often experience a contract period. Don't worry, this slight floor movement is very normal. Small gaps that occur during this movement can often be restored by a refinishing process. However, when hardwoods experience significant movement, and wider gaps emerge between boards, you know it's time for a replacement.
Severe Flooring Damage 
Of course, severe flooring damage is another reason a full hardwood floor replacement would be needed. When over 30% of your hardwood floor has received damage, it is more cost-effective to replace the flooring rather than trying to refinish the hardwood. Common severe floor damage comes in the form of warping, chipping, stains, or termite infestation. Exposure to water can also lead to severe flooring damage, as it creates uneven surfaces over time.
Extreme Wear 
A final sure-fire sign that your hardwood floors are in need of a replacement is extreme wear. While hardwood floors have a long lifespan, they can only be refinished around ten times before a replacement is due. When hardwoods have been refinished one too many times, the grooves in the planks and nails begin to show. 
Hardwood Replacement Options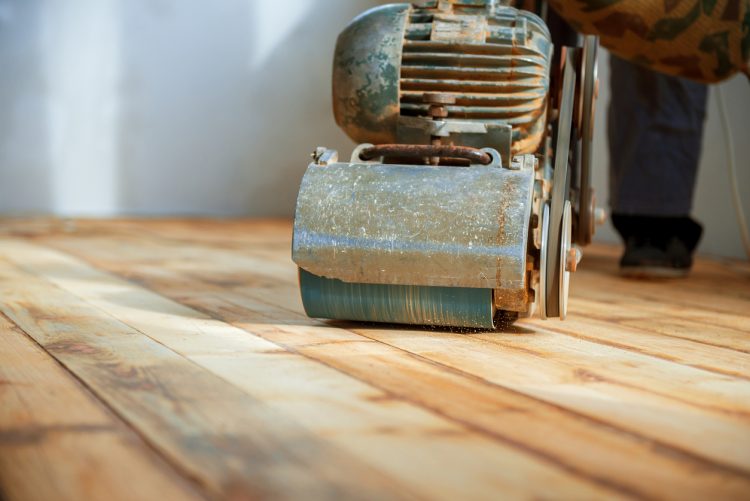 If you come to the decision that hardwood replacement is the better decision for your situation, you're going to want to know what your hardwood replacement options are. Check out the top four hardwood replacement options below. 
Solid Hardwood 
Solid hardwood floors are a top replacement option. Traditional solid hardwood is a fantastic replacement option as it comes with a long lifespan. Installing new solid hardwood floors should give you at least twenty years of flooring with minimal maintenance needs.
Softwood Flooring 
If you're looking to install new flooring in a low-traffic room, softwood flooring is a great option. The name can be misleading because softwood flooring does not actually mean that the flooring is soft. Softwood refers to the wood's structure and origin, not its density. Popular softwood flooring comes from cedar, pine, and spruce trees. These types of woods are more prone to dings and scratches. Therefore, softwood flooring is not ideal for rooms that receive heavy use.  
Engineered Hardwood 
If you're looking for a versatile and resilient flooring option, engineered hardwood is an excellent option. Engineered hardwood contains a core of hardwood or plywood with a layer of hardwood veneer located at the top of the flooring. The material of engineered hardwood makes it much more resistant to moisture and heat compared to solid hardwood. 
Laminate 
A final popular flooring replacement option is laminate. Laminate is a durable flooring option that comes in a variety of textures and colors. Laminate is also a less expensive option compared to solid hardwood and is generally easier to install.  
Call Your Local Flooring Experts Today 
At District Floor Depot, we are your local hardwood experts. We can help with all of your hardwood flooring questions and needs. As a new hardwood flooring retail company based in Washington, DC, we sell the top quality hardwood floors to local consumers. Our goal is to be DC's number one resource for all hardwood flooring needs. We specialize in domestic hardwood flooring, luxury vinyl plank, bamboo, cork, exotic hardwood flooring, as well as reclaimed flooring. All of our floorings can be viewed at your local showroom at your convenience.  
From installation to sanding, refinishing, and repairs, we help each of our customers transform their homes for less. Let us help you transform your home today. Whether you are looking to refinish your existing hardwoods or you want to install new flooring, District Floor Depot is the place to call in the DC area. Contact us today to discuss your floor installation needs. We look forward to hearing from you soon!