Home For The Holidays!
Holidays are right around the corner. Enjoy 25% OFF installation plus
0% special financing. Offer is valid until December 31st.
Shop Discount Hardwood Floors
Let Us Bring The Showroom To You
You can check out our vast inventory in any one of our showrooms located in Washington D.C. and Virginia, or you can let our associates come to you. They'll visit you in your home ready with several samples and can answer any questions you have.
Hardwood Flooring in Washington D.C. & Herndon VA
We are focused on the sale and installation of hard surface flooring. This includes, Domestic Hardwood flooring, Luxury Vinyl Plank (LVP), Bamboo, Cork, Exotic Hardwood Flooring, Reclaimed flooring. We believe that getting quality, value and a great price from a knowledgeable, responsible company should happen in a comfortable environment.
Our Professional Services
Once you choose the perfect flooring for your home, our installation team helps you to get the most out of your new floors.
Our teams of expert craftsmen on staff are ready to repair, refinish, sand or replace your damaged or stained flooring.
Qualified buyers can take advantage of special financing with as low as 0% APR for 12 months *Subject to credit approval.
Be the first to receive exclusive offers, flooring deals, and tips on taking care of your floors by joining our Contractor's Club.
Recently Completed Projects
They are prompt, have fair rates, and their work quality is impeccable! They came out quickly to address my request for urgent repairs to my wood flooring. Not many contractors can complete the work in less than a week after the initial consultation like they did! They do what they say they're going to do and then some. They even helped me save money on quality wood flooring materials, after I learned that the original flooring used (by the prior contractor two years ago) was out of stock. They even cleaned up really well after the job. They wore face masks and shoe covers as well. They're so friendly and professional. I would definitely recommend them to anyone!
The District Floor Team's DC Rhode Island Ave. store did a great job installing my wood laminate basement floor. From start to finish the entire team was professional, helpful, courteous and punctual. From helping me find the right flooring, to explaining the various underlay options, to taking accurate measurements and providing a fair price, they were great. Install was done on time, they did a good job with clean up and I would both recommend and use them again.
We received incredible first-rate customer service at District Floor Depot in Herndon. Their selection of products is really good and their showroom staff are knowledgeable and super friendly. We are renovating a 1960's home and we keep going back to District Floor Depot as our flooring provider of choice because of their good prices, good inventory in-stock, and friendly neighborhood vibe. they even helped me load 70 boxes of flooring onto my truck. Overall I really liked working with them and would continue to go back.
I'm so happy with my experience with District Floor Depot! From the in home consultation, visiting the showroom, to my frequent questions and changes the team was incredibly knowledgable and friendly. My new floors look beautiful and were installed efficiently, causing little inconvenience to me. The whole process was simple and professional.
I needed someone to replace some water-damaged hard wood flooring in a 120-year-old house in Washington, DC. I received three different flooring quotes from area companies, and I was particularly impressed with the District Floor Depot's team. Mario came out to conduct the initial assessment and was kind enough to provide a thorough summary of options available for the repairs and finishing. The office sales and project management team took his notes and assembled a detailed quote that ultimately was cheaper than the closest competitor. In the end, we liked our experience so much that we expanded the work to cover resurfacing the wood flooring in the entire home. There was an error in the quote that altered the price, but Lesli called me and walked me through the correction and explained that the final quote was actually cheaper than the original. I was very thankful for that clarification that saved me money. The team was incredibly responsive with the planning and contracting phases. The initial job was scheduled to take 3-4 days, but they assigned a guy named Ever and his team to the job. Ever was very responsive to my inquiries and ended up completing the job in only two days. The red oak flooring was a decent match with remaining original boards, and the finish we used matched all the stairs and railings we didn't refinish. The major dust and debris generated from sanding a 1,600 square-foot space was expertly cleaned up from all surfaces, which really exceeded my expectations. I couldn't be happier! Thanks to Mario, Ever, Elsi, Lesli, Juan, Ella, Yusuf, and the rest of the team for your service!
They did a great job transforming my hideous parquet floors into beautiful hickory. They did the install while I was away, followed up with me a couple days later, and answered all my questions. Kudos to them for also being patient as I waited for my condo association to approve the floor change. Would recommend.
Overall very pleased with our experience with DFD installing new hardwood flooring throughout our condo. The price seemed very competitive, the customer service and scheduling was very prompt and attentive, and the installation team did a very nice job with the flooring install. The floors themselves look great. The only negatives I would mention is the bit of markup that the installers did to our walls throughout the house. No attempt was made to avoid or cleanup thus markup and we'll now have to paint throughout the house even though we recently painted. Additionally the installation team could have done a better job of mitigating the dust and dirt during the process and did a sub-par job of cleaning up dust and debris afterwards. Overall, they were very professional, expedient, and good quality.
District Floors Depot was fantastic to work with. They were patient and professional, gave us a competitive price, had a ton of wood flooring options to choose from, and installed beautiful oak and walnut floors in several rooms of our new house. I recommend going into their store to look at the selection rather than just browsing online, because they have more samples there and it's easier to see the true color of the wood in person. Finally, they did a really good job cleaning up and the place was gleaming and spotless after they were done. I highly recommend them!
District Floor Depot did the flooring job at our house. We were very delighted with the results, as the job was very diverse. We had luxury vinyl plank flooring in the basement, carpet in the stairs and bedrooms, refinished wood in the kitchen, and new hardwood in the living area in addition to all the transitions in between. There hardwood installation and refinishing were perfect, we cannot tell were the old wood ends and the new wood starts. The floor in the basement was not perfectly level, so they did prep work to make it flawless.
Awesome experience with District Floor Depot. The company displayed professionalism from beginning to end. The management is kind, consultative and very responsive. The delivery and installation team are professional. And most of all, our floors look amazing! Highly recommend.
I'm loving how our floors look now! They delivered an extremely high quality of service while finishing the project quickly and efficiently. The whole process, from the sale to the installation took 3 weeks with only 3 days of actual construction. The team was on time everyday and ready to start working immediately. Highly recommend their service, and would also like to mention how every member wore face masks during the entire process and proceeded consciously of the current ongoing pandemic.
They did a great job transforming my hideous parquet floors into beautiful hickory. They did the install while I was away, followed up with me a couple days later, and answered all my questions. Kudos to them for also being patient as I waited for my condo association to approve the floor change. Would recommend.
Simply put, I couldn't be happier with the work done by District Floor Depot. They replaced flooring throughout the main floor of our row house due to plumbing-flood damage to the old floors. It was a tricky job, with a stair opening, installation of flooring under some semi-floating kitchen base cabinets, lots of cuts around some columns, etc. The work was carefully and beautifully done. The work done by District Floor Depot was far superior to the carpenter who originally installed the floors.
They were awesome every step of the way from the initial estimate, us figuring out (and refiguring and even more refiguring) which floor to go with, and being flexible with the installation process. It was amazing how fast they were able to do the job especially since they had to work in tight closets. Our floors came out just like we hoped: looking great with our exposed brick wall!
Thank you so much for the impeccable customer service from start to finish! Leslie and Heidi were my two main sales ladies I worked with and they were patient in explaining different woods and how the installation would be executed from A-Z. Their team came in one day, ripped out old carpet and installed brand new wood flooring in ONE day! They were clean, efficient and thorough! I will use them again in the future, thanks District Floor Depot, good looking out!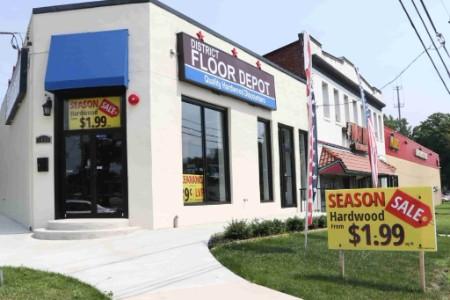 Rhode Island Store
1600 Rhode Island Ave NE
Washington, DC 20018
(202) 652-1660
Mon-Sat 8 AM to 6 PM
Sun 11 AM to 5 PM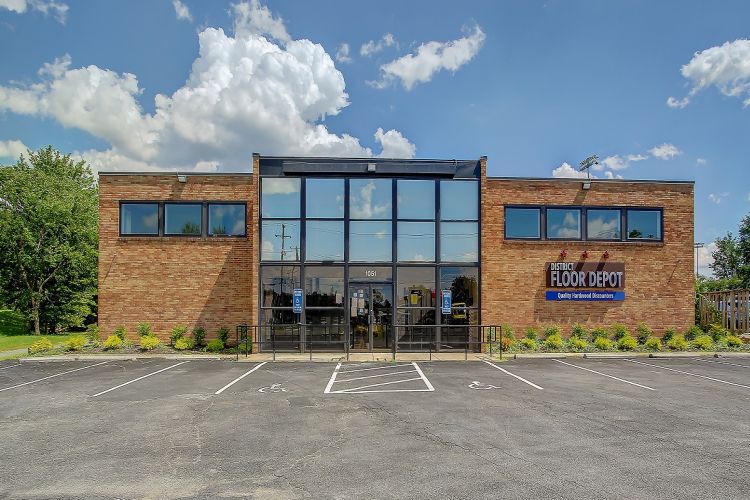 Herndon VA Store
1051 Elden St Herndon, VA 20170 (703) 436-1050 Mon-Sat 8 AM to 6 PM Sun 11 AM to 5 PM
College Park MD Store


9409 Baltimore Ave
College Park, MD 20740


District Floor Depot Blog
Blog
Before the days of staple guns and prefinished flooring, many people used face-nailing to secure hardwood flooring. This finishing style is still used today by