Exclusive Hardwood Brands
Professional Floor Installation in
Washington D.C. & Herndon VA
We are focused on the sale and installation of hard surface flooring. This includes, Domestic Hardwood flooring, Luxury Vinyl Plank (LVP), Bamboo, Cork, Exotic Hardwood Flooring, Reclaimed flooring. We believe that getting quality, value and a great price from a knowledgeable, responsible company should happen in a comfortable environment.
Let Us Bring The Showroom To You
You can check out our vast inventory in our showroom at 1600 Rhode Island Avenue. Or, you can let our associates come to you. They'll visit you in your home ready with several samples and can answer any questions you have.
Once you choose the perfect flooring for your home, our installation team helps you to get the most out of your new floors.
Our teams of expert craftsmen on staff are ready to repair, refinish, sand or replace your damaged or stained flooring.
Qualified buyers can take advantage of special financing with as low as 0% APR for 12 months *Subject to credit approval.
Be the first to receive exclusive offers, flooring deals, and tips on taking care of your floors by joining our Contractor's Club.
They did a great job transforming my hideous parquet floors into beautiful hickory. They did the install while I was away, followed up with me a couple days later, and answered all my questions. Kudos to them for also being patient as I waited for my condo association to approve the floor change. Would recommend.
Simply put, I couldn't be happier with the work done by District Floor Depot. They replaced flooring throughout the main floor of our row house due to plumbing-flood damage to the old floors. It was a tricky job, with a stair opening, installation of flooring under some semi-floating kitchen base cabinets, lots of cuts around some columns, etc. The work was carefully and beautifully done. The work done by District Floor Depot was far superior to the carpenter who originally installed the floors.
They were awesome every step of the way from the initial estimate, us figuring out (and refiguring and even more refiguring) which floor to go with, and being flexible with the installation process. It was amazing how fast they were able to do the job especially since they had to work in tight closets. Our floors came out just like we hoped: looking great with our exposed brick wall!
Thank you so much for the impeccable customer service from start to finish! Leslie and Heidi were my two main sales ladies I worked with and they were patient in explaining different woods and how the installation would be executed from A-Z. Their team came in one day, ripped out old carpet and installed brand new wood flooring in ONE day! They were clean, efficient and thorough! I will use them again in the future, thanks District Floor Depot, good looking out!
I recently had some hardwood floors installed in my home and District Floor Depot did an exceptional job. It's been about three weeks now, and I find myself smiling every time I walk in my door. The new flooring gives my home a different type of energy and I am extremely happy with the results.
District Floor Depot (DFD) has a very responsive staff. I ordered flooring for a housing project in DC. DFD's prices were 20% cheaper than a competitor I previously used. In addition to the prices, I can't say enough about their staff. They were attentive to my needs, my project timeline, and our dialogue. They were very responsive and professional.
I had a great experience shopping/purchasing with District Floor. The team members were helpful, knowledgeable and had great customer service! The price was competitive and the product looks great! They even came back and allowed me to use my military discount!
We are so happy with District Floor Depot's work. We replaced carpets with hardwood floor in our DC apartment and had a closet floor redone with tile. After providing a very detailed quote and walking us through the process, they helped us select the wood that would most closely match the rest of the hard wood floors in the apartment. They were super responsive, fast, professional and provided high quality work. The floors look fantastic and we highly recommend District Floor Depot!
Love, love, LOVE the floor installed by District Floor Depot! If I could give 6 stars, I would. Showroom: amazing selection of samples to view. You can even take them home to test them out in your home. High quality woods at every price point. Price: Reasonable prices Service: Outstanding! Mani, Renee and Heidy were truly professional in every contact. Each were very knowledgeable about the product and installation. Installation: Excellent!
I have used District Floor depot twice for flooring in my home, we choose All American Natural Hickory, and the finished product/service provided has always been consistent. I am continuously offered a lower price than other competitors, and this is important to us as we are having work completed in sections/on a budget. I recommend them to everyone I know who has flooring needs.
From estimate to installation, District Floor Depot made the whole experience as painless as possible. When the installers finished, they actually started cleaning the house, including the appliances, and were always careful to avoid damaging anything. The flooring looks perfect and I wouldn't hesitate for a second to call them again for any future work. This is how you run a successful business in a busy city.
District Floor Depot did a great job! They were very helpful and courteous in answering our questions. I think they genuinely wanted to help us pick the right floor. The installation was professional and the floor looks great!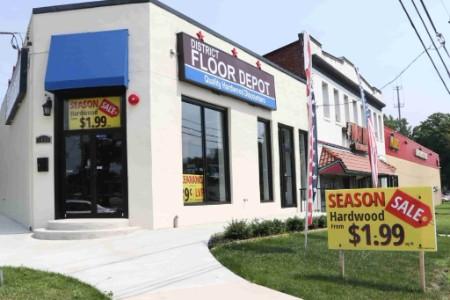 Rhode Island Store
1600 Rhode Island Ave NE
Washington, DC 20018
(202) 652-1660
Mon-Sat 8 AM to 6 PM
Sun 11 AM to 5 PM
Good Hope Store
1306 Good Hope Rd SE
Washington, DC 20020
(202) 908-1313
Mon-Fri 9 AM - 3 PM
Sat & Sun CLOSED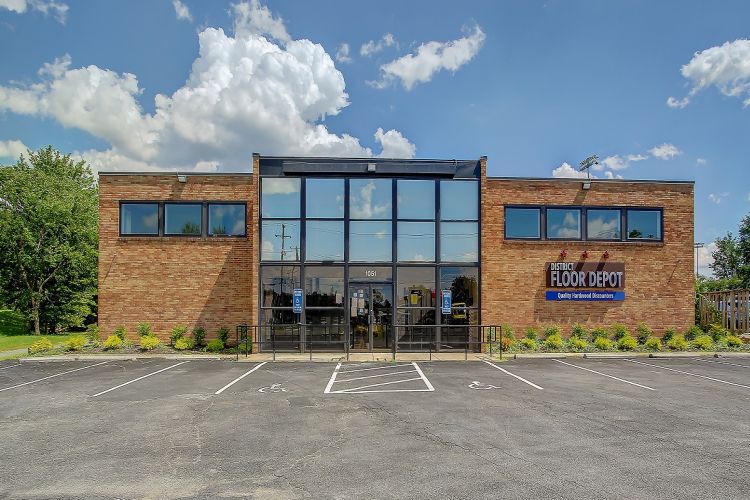 Herndon VA Store
1051 Elden St Herndon, VA 20170 (703) 436-1050 Mon-Sat 8 AM to 6 PM Sun 11 AM to 5 PM
College Park MD Store


9409 Baltimore Ave
College Park, MD 20740