Interior design is one of those situations in which you think you know what you want until you get your hands dirty. You might know you want hardwood flooring, but did you know about the hundreds of options for materials, colors, patterns, and more? There are many factors that go into selecting the right option for you and your home. It might be as simple as the price point or personal preference. You might need to find a hardwood floor that complements your current decor style and color scheme, limiting your choices.
As you plan your remodel, start learning about your options and deciding which modern wood floor goes best with your vision. Not sure where to start? Here are 8 popular modern floor trends you should know:
Popular Modern Wood Floor Styles
Choosing a hardwood floor begins with your personal style. You want your floors and interior decor to reflect your tastes. You also need to consider your current furnishings and the style of your home. Do you want your home to have a rustic charm? Maybe you prefer a warm, rustic vibe? Whatever your style may be, consider these popular looks.
1. Gray Hardwood
Gray has been in the home decor spotlight for a few years and it shows no signs of stopping. In addition to gray walls and gray accents, homeowners are falling in love with gray hardwood floors. Gray is a versatile color that complements your lifestyle. As you change decor through the years and update furniture, curtains, and rugs, the gray hardwood floors will continue to blend seamlessly with your style.
Gray hardwood can come in a variety of wood species and textures. It also comes in many shades from dark charcoal to a light, almost whitewashed gray. All these shades have a cool, relaxed tone, so they're perfect for kitchens, bedrooms, and more. Whether your home is a colonial or industrial, the gray floors mesh with the overall feel of the home.
Like the gray color but want a warmer look? Try one of the newest color trends: greige. As a blend of gray and beige, greige hardwood floors have warmer undertones with a modern gray shade.
2. Reclaimed Wood
Reclaimed hardwood has a distinctive look but it's thriving in today's homes. It has a distressed style that offers character that's unique to your home. With reclaimed wood, you don't get the uniformity of other woods. Each piece has its own nicks, scars, and unique flavor to bring your home to life.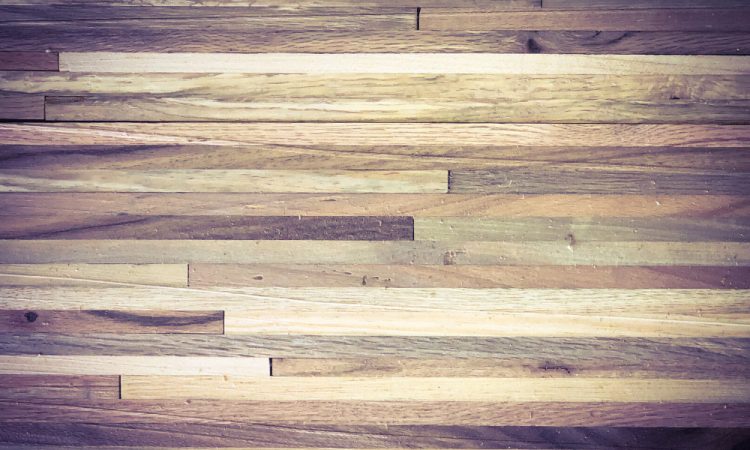 Reclaimed wood can complement a variety of styles, but it's most common in homes with industrial or rustic themes.
It's also particularly popular among people who want to keep their environmental impact to a minimum. By using reclaimed wood, you're getting beautiful hardwood without contributing to forest destruction. It's a great way to lower your carbon footprint and create a beautiful space at the same time.
3. Black Hardwood Floors
For homeowners who want a particularly modern look, black hardwood is a popular choice. While you can choose either a matte or glossy finish, the glossy sheen is more popular in contemporary homes. The black hardwood floors provide a sophisticated, upscale look to the home. When staining your wood floors black, you can do a process called water popping to absorb more stain evenly through the boards.
The trick for black hardwood is matching it with the right design elements. The rest of your room should have lighter colors. This combination of light and dark colors create a breathtaking contrast in any room. If it doesn't, the room will look too dark and small.
4. High Color Variation
You may have noticed in looking at wooden furniture that some wood varieties have more consistent colors than others. We're seeing a rising trend toward hardwood floors with a more marble-like coloration and a noticeable grain. It provides a natural look to your hardwood floors. It adds a character feature to your home that catches the eye.
This style appeals most to homeowners who want a natural aesthetic. Grain-heavy wood looks more like natural wood than black hardwood for instance. However, it's still versatile enough to blend it with traditional, transitional, and contemporary furnishings.
5. Extreme Plank Widths
When you picture a hardwood floor, you probably picture the traditional planks that are around three inches wide. That size is falling out of favor with modern homeowners who are ready to switch things up. Switching up plank widths is a new way of creating character in your home. It's a good idea to choose a few widths to lay down on your floor before making a final decision. You want to have a sense of what the flooring will look like once it's installed. 
It's most common for modern homes to have wider planks. They could go as wide as six inches or even more. However, thin planks are coming into the spotlight too. Thin planks are particularly useful for homeowners who want unique patterns in their hardwood. When creating patterns, it's a good idea to allow a professional to install it, saving you the hassle of painstakingly creating the pattern.
6. Herringbone Patterns
Speaking of unique patterns, why not branch out from the standard lengthwise hardwood pattern and go for something different? One retro pattern that's having a major comeback is the herringbone pattern. The herringbone pattern dates all the back to the roadways of the Roman Empire, where it provided durability due to its ability to absorb shock from the footsteps and carts.
The herringbone pattern, which forms rows of "v" shapes, is a versatile choice. You can create the look with any wood species, any color, and any size of plank. You won't want to put a rug down on this hardwood floor. The beautiful pattern is the star.
Keep in mind, though, that a proper herringbone hardwood floor requires extensive measuring, cutting, and precise laying. While hiring an installation professional is always your best bet for a great result, it's even more vital if you want a herringbone floor or another unconventional pattern.
7. New Takes on Textures
We've already discussed several options for hardwood floor colors, wood species, plank sizes, and installation patterns. On top of all those choices, you also need to consider texture on your floor. The texture is subtle but provides a definite wow factor.
There's a growing trend toward a larger variety of textures. For instance, more homeowners are opting for wire-brushed and distressed wood. These textures change the overall style of the wood and give it a more unique character. You can add texture to any color wood floor, so you don't need to choose between the color you desire and texture.
As an added bonus, textured wood floors are less slippery than floors with less texture. If you're worried about slipping and falling on your floor or stairs, added texture can come in handy. This is especially true of families with older family members who are more likely to become seriously injured in a fall.
8. Home-Wide Consistency
Not only have certain types of hardwood become more popular, but specific ways of using them have become popular too. In particular, more homeowners are choosing to use the same hardwood throughout their entire home. This helps with the flow of the decor from one room to the next and ties the entire home together.
Consistent hardwood creates a more cohesive look. It makes it easier for each room of your house to look just as modern, country, or traditional as the next. It also makes it easier to make repairs in multiple rooms.
Of course, there are certain rooms where you want more warmth and comfort on your feet. Area rugs allow you to make those customized changes without investing in installing carpet. A combination of hardwood and area rugs also has a more high-end look than standard carpet. You can use the area rugs to tie the colors of a room together or add a bit of flair.
Your Own Style From Floor to Ceiling
When it comes to remodeling your home and making it fit your style, flooring is a great place to start. It lays the foundation for your style and upgrades any home's appearance. Wood floors are definitely on any homeowner's must-have list. The long-lasting beauty makes it timeless, and the number of styles, colors, and patterns makes it easy to accommodate any decor or era of style.
If you're ready to bring your home forward into present-day trends, these modern wood floor styles should be on your list. The key is finding a modern look that complements your personal style to make your home look authentically "you".
Whether you know what you want or you'd like an expert's guidance, our hardwood flooring experts can help.